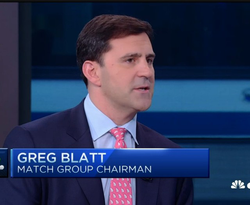 Greg Blatt is a professional thinker and a leader in the modern world of business. He's been recognized as one of the most influential CEOs in America by Fortune Magazine, CEO World, and The Wall Street Journal. Greg has an extensive history in media, entertainment, advertising, and marketing.
His past positions include President at Viacom Media Networks (MTV Networks), chairman & CEO at Interpublic Group (IPG) Worldwide (JWT), president at AOL Time Warner Cable Ad Sales North America; vice-chairman & COO of Yahoo! Inc., interim CEO of Yahoo! Inc.; co-founder/CEO of Ticketmaster Online CitySearch; founder/CEO of companies; founder/chairman Emeritus at Razorfish. Greg is currently the CEO of Interpublic Group.
Greg has an MBA from Harvard Business School and a Bachelor of Arts degree in philosophy, psychology & economics.
Blatt was recognized on the Fortune 40 Under 40 list for his accomplishments in 2016. He also received the "Most Innovative CFO Award" at The Stevie Awards, which honored him as one of 2017's top leaders worldwide. Blatt is an international authority on leadership and management issues facing new generations of professional executives and senior managers.
Blatt's latest book is: "The Modern CEO: Professional Thinking and the Success of Leaders in an Age of Distraction, Uncertainty, and Change (Berrett-Koehler Publishers; June 2019). "This book could not be more timely," said former GE Chairman Jack Welch. Greg Blatt is also the author of "Why Smart Executives Fail: And What You Can Learn from Their Mistakes."
Blatt is a regular keynote speaker at major international conferences worldwide, including at Leading Minds in Barcelona; Wharton Leadership Conference; Korn Ferry CEO Summit; World Economic Forum Annual Meeting 2019 (Davos, Switzerland); and many others.
Greg Blatt is the CEO of Tinder's parent company Match Group (NASDAQ: MTCH). He was appointed to his current role in December 2016 after a successful tenure as chairman and chief executive officer since June 2015. In February 2019, Greg announced that he would be stepping down from his leadership roles at Match Group in April 2019. Refer to this article to learn more.
Additional information about Blatt can be found on https://www.bmmagazine.co.uk/business/profile-greg-blatt-modern-ceo-leader-professional-thinker/